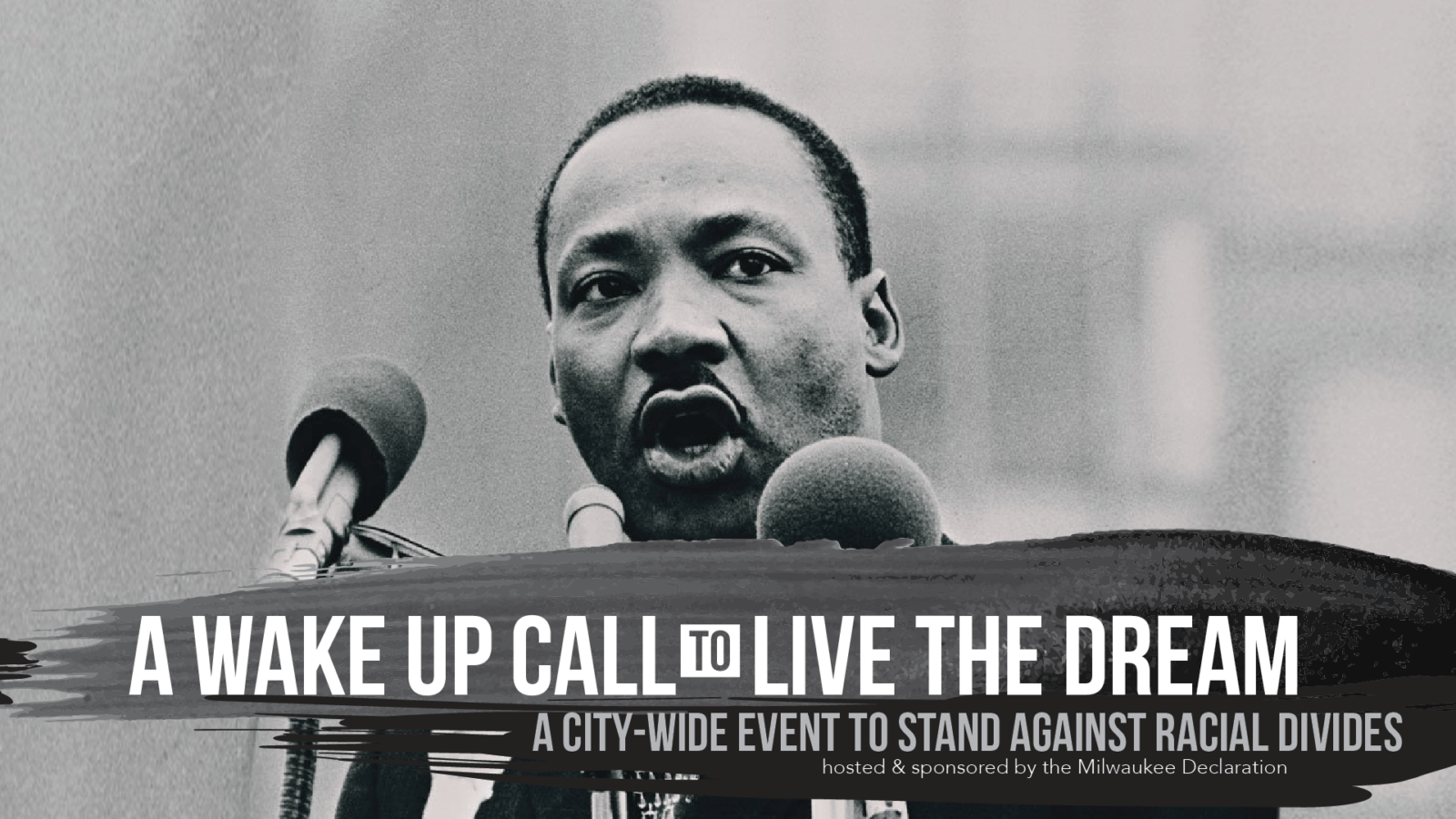 A Wake Up Call to Live the Dream
"WE, AS A PEOPLE, ARE LATE. IT'S TIME TO WAKE UP"
Be a part of the revival of the city of Milwaukee, as the MKE Declaration hosts 'The Wake-Up Call: To Live the Dream" at Eastbrook Church, 5353 N. Green Bay Ave., Milwaukee, on what would be Dr. Martin Luther King, Jr.'s 89th birthday, January 15, 2018, at 6:30 p.m.
We, as the American people, have sat, marched, talked, yelled, screamed, and dreamed for more than a century that we can finally put an end to racism and discrimination. While the Civil Rights Movement of the 1950's and '60's ushered in improvements in race relations, those in the inner cities – the urban centers of America – see and feel many of the same problems we went through during those turbulent times. Our political and community leaders have not done enough. Our grassroots movements have not done enough. The city of Milwaukee slept for too long, and, now, we are late. It's time to wake up.
On January 15, 2018, everyone is cordially invited to join the MKE Declaration at Eastbrook Church in a celebration of Martin Luther King, Jr.'s dream, and a lesson in how we can all realize it. It's called 'The Wake-Up Call: To Live the Dream.'
This event is not just another tribute to Dr. King. We will examine Dr. King's dream and show everyone how, through the power of Jesus Christ, we can put his dreams to work – not just for ourselves, but for everyone.
We may not agree on everything politically, socially, or theologically, but, as Dr. King once said, "We may have all come on different ships, but we're in the same boat now." Let us all come together and walk with Christ to help heal our city, wake up, and live the dream Dr. King made famous.
For more information on the event, please contact:
Pastor Matt Erickson, Eastbrook Church, 5353 N. Green Bay Ave., Milwaukee, WI 53209, 414.228.5220, info@eastbrook.org
Bishop Walter Harvey, Parklawn Assembly of God Church, 3725 N. Sherman Blvd., Milwaukee, WI 53216, 414.442.7411, parklawn.org/site/