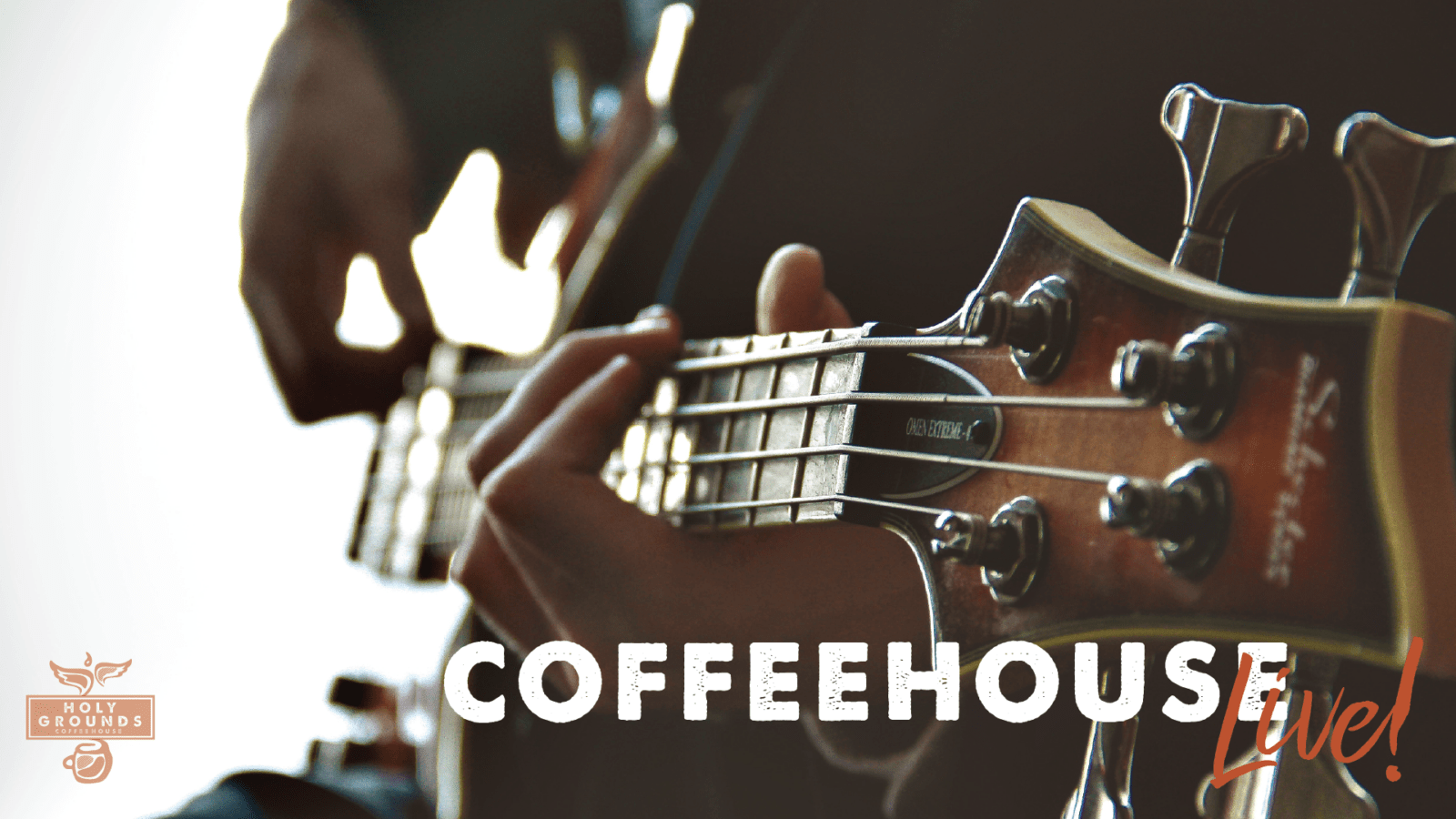 Coffeehouse Live! with Jim Bohn and Matt Johnston
Join us for a wintery Coffeehouse Live! at Holy Grounds Coffeehouse on Friday, December 8 from 7-9 pm for an evening of music with Jim Bohn and Matt Johnston playing original songs. Coffee and Espresso beverages will be available for purchase. Event is free but donations for the musicians appreciated.
About Jim
 "Every day is another step farther up the mountain." – Jim Bohn
Musician Jim Bohn has been writing songs for 40 years. Over the decades, he's recorded many of those tunes on six CDs: "Bound for Judah" (2016), "What Child Is This?" (2007), "These Walls Tell a Story" (2006, "Blues Cowboy Sampler" (2005), "Farther Up the Mountain" (2004); "Clear Blue Sky" (2002); and "Old Dogs, New Tricks," with Ozaukee County Jam Band (2001).
Born in the Midwest to a father who was a farmer and welder and a mother who was a homemaker and bookkeeper, Bohn bought his first electric guitar for $35.  He wrote his first song at his parents' kitchen table at age 15.
Bohn has traveled widely throughout the U.S. and Europe. At airports, in railroad stations, and in his car, Bohn is a keen observer of people. He weaves these observations into his songs, which frequently emphasize life experiences. Often his songs feature themes about love and family.
"I try to draw upon what is common among people," Bohn says. "Then, through my music, I look for ways to inspire and encourage people, to take on a spiritual aspect."  Bohn performs and records different types of music: country, Southern rock, gospel, Celtic, folk and blues. CCM Magazine.com. wrote about Bohn's "Farther Up the Mountain" CD: : "Jonathan Edwards meets Eric Clapton," remarking that he has a "whole lot of soul." And a reviewer for CD Baby said: ". . . a well-written album from a man who wants to pour out his soul . . ."
About Matt
Matt Johnston was born into a musical family where his mother sang and played piano and and his older brother Dan played banjo and guitar. By age 7, Matt was already playing guitar and writing songs before learning the drums at age 12. Soon after, he co-founded the christian rock band Scarlet Rayne with his brother Dan. Throughout the 90's Matt became increasingly influenced by folk, blues, jazz, gospel and soul music and performed many solo acoustic shows at coffeehouses while still playing in other bands with his brother Dan.
In 2003, Matt released his first solo album "Inside Skinny" which The Milwaukee Journal Sentinel reviewed, calling him a "Modern day troubadour whose rich emotive voice is at home with everything from laid back roots rock to intimate folk revelations". A few years later, Matt joined a band made up of worship leaders from an urban WELLS Lutheran Church, playing slide guitar and leading music at numerous congregations in the area. Though they had no official name, they were often dubbed the WELLS Angels. Since starting a family in 2006, Matt has had less time to devote to music but continues to write and perform, mixing his own songs with with familiar standards in dynamic live shows.