The history of Eastbrook Church is a rich and complex story of God and His people forming a church on Milwaukee's East Side.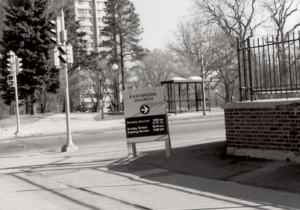 In the fall of 1979 a number of Elmbrook Church's small group leaders from Whitefish Bay, Shorewood and Milwaukee's East Side met with senior pastor Stuart Briscoe and their deacon board. With their blessing and encouragement, a new church was born. Services began on Sunday nights at the Junior Achievement Center on N. Pt. Washington Road, with a teaching pastor and hymnals provided by Elmbrook. As the church grew and with the desire to meet on Sunday mornings, the decision was made to meet at Hartford Avenue School in the middle of the UW-M campus. The school auditorium, gymnasium and many classrooms were made available for Sunday school and nurseries.
Marc and Nancy Erickson, who came from Elmbrook, were our first pastoral couple and the initial service was attended by over 250 people from many walks of life.
Our early church founders' desire was to have a church that could only be explained by the power of the Holy Spirit working in and through it.
Outside office space was needed, and after a lowly beginning in the basement of an office building at Wilson and Capitol Drive, we purchased the Pellman Theater on Oakland and Locust. Church members gutted and rebuilt that space into the Eastbrook Center, providing offices and a large theater/meeting space that served our non-Sunday needs for many years.
Even at this early time, the church hungered to be involved in missions. Pastor Marc felt the same, as he and Nancy served in Somalia in the 70's, where one of their five children was born. In a bold and Holy Spirit anointed move, during our second year as a church we signed a contract with the Somali government to rebuild an old SIM mission hospital in Bulo Burti. This project grew as Eastbrook sent its own people and eventually funded this project. In 1989 the government fell apart and we were forced to leave, but our "corporate" hunger for missions was still strong. This commitment to missions remains relevant today as we walk along with existing churches overseas, in addition to equipping and sending some of our own people as they are called.
We continued to grow and Hartford Avenue School was no longer adequate, so we moved to Riverside University High School, which had a 1,300 seat auditorium and an abundance of classrooms. This was an exciting time as our operation expenses were relatively low and our mission's budget was increasing.
It became apparent, however, that, with limited parking and an enormous amount of set up each week, we would soon be in need of our own space.Over the next several years we looked at many possibilities for a church building – a warehouse, a manufacturing site, a vacant site to build, and numerous others.
The driving factor in this search was that we wanted to be a church in the city, a place where all of God's people – rich and poor, all ethnic groups, and hurting people could come and meet Christ.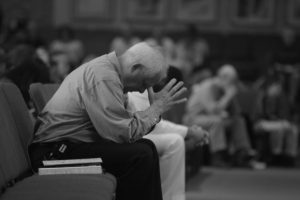 In 1995 our prayer was answered in a most amazing way. The campus of St. Nicholas Catholic Church became available and we were able to purchase it. Our people responded and, in the same way we transferred the Pellman Theater into the Eastbrook Center, we rebuilt St. Nicholas into the Eastbrook Church campus. Over the years, under Marc's steady guidance, we added a new building, bought a former bar and made it into Holy Grounds Café, and continue to strive to be a church where things only move forward because of the power of the Holy Spirit working in us.
Throughout our history we have been more than blessed to have been lead by a strong couple in the Ericksons. As the 30+ years went by, Marc and Nancy realized that it was time to find a new senior pastor to continue to help Eastbrook church grow. They had known Matt and Kelly Erickson (no relation) for over ten years and had followed their ministry from a distance, although Kelly interned at Eastbrook while she was in college.
Matt and Kelly were already established elsewhere, but as Marc and Matt met over a six month period in 2010, they both realized that this truly was God's plan – to have Marc and Nancy pass the leadership to Matt and Kelly. Being confident that this was God's leading, it was time for the church to get to know the new "Erickson" family.
Matt came to Eastbrook with the experience and background that fit well with our congregation. After coming to Christ at the age of 16, Matt, several years later, sensed God calling him to pastoral ministry. He attended Wheaton College where he met Kelly, and they married after college and now have three boys. Upon completing ministry training at Northern Theological Seminary, he worked with World Relief-Africa, the "Ave" college ministry at Elmbrook, and planted Brooklife Church in Mukwonago. He has always had a high regard for Eastbrook and the opportunity to serve us here in the city was very exciting.
As Matt came to preach and meet with church leadership, council, staff and elders, it became apparent that the church was ready to welcome them with open arms. Besides being the mother of three boys, Kelly brings excitement and warmth to the women's ministry and anything else she gets involved in.
On July 15, 2011 a meeting was held and the membership of the church voted overwhelmingly to confirm Matt and Kelly as our new senior pastor couple. In September, 2011 Marc officially passed the baton to Matt and took himself out of the "Senior Pastor" role, so that Matt could freely follow God's calling to lead.
As we continue to grow both in numbers and maturity, we will certainly have new challenges, but as our founders dreamed, "We want a church that can only be explained by the Holy Spirit working in it." Eastbrook Church remains…to embody the love of Christ in the city and in the world. Welcome to Eastbrook!